Calendula Cream 500g
Product Code:
cc0022

Product Availability:
In stock
Please
log in or register
to see products and prices. This site is for Heath care Professionals only.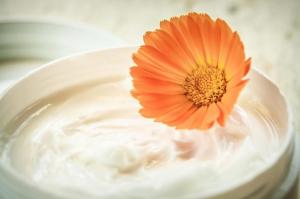 ---
Product Details
Our marigold cream is made by gently floating the alcohol off our tincture, creating an alcohol-free concentrate, which is added to the oil phase of the cream.The oil phase iself contains infused marigold oil. The equivalent of 500ml of tincture is contained in each 500g of cream. The water phase of the cream is made from a marigold infusion.
Ingredients:
Marigold Infusion
Marigold Infused Oil in Sweet Almond Oil
Marigold Extract
Vegatable glycerin
Borago officinalis seed oil. Borage seed oil
Simmondsia chinensis. jojoba oil
cetostearyl alcohol
Glyceryl monostearate
Polyglyceryl 3 dicitrate/stearate
Ethyl hexyl stearate
Phenoxyethanol
Chlorphenesin
Caprylyl Glycol
Back